Viva Farms CSA
Get Fresh, Organic Produce Delivered Close to Home
COVID-19 Update (01/30/2023): Our 2023 CSA is scheduled as planned. We will be continuously monitoring the situation, and will implement changes if necessary to ensure the safety of our customers, farmers, and community. Changes could include: adjusting drop site locations, revising pick up protocols to include stringent cleaning and sanitation practices, moving to single-use packaging if required, etc. Please check here for updates. In this uncertain time, having a source of healthy food is as important as ever! We encourage you to sign up today. Be well!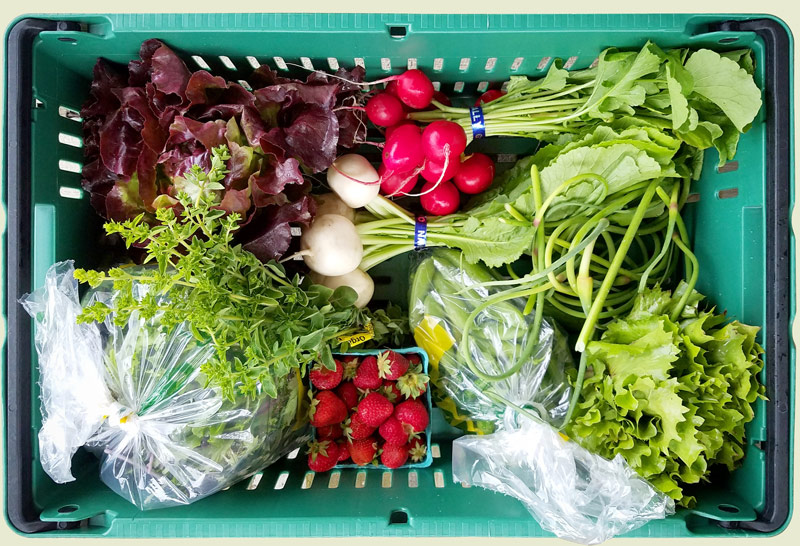 Deliveries begin the week of June 7th, 2023 and go through November 16th.
Sign up opens February 1st, 2023.
CSA stands for "Community Supported Agriculture." CSAs were started as a sales model that invites the community to share in the risk of farming. By purchasing farmers' product in advance, you give farmers the confidence that their product will be sold, and upfront cash to purchase seeds and supplies for the upcoming season. In return, you can rely on receiving locally-grown produce every week throughout the season. 
The Viva Farms' CSA is a subscription to weekly boxes of farm-fresh organic produce, grown by the incubator farmers in our program. By joining our CSA, you are directly contributing to beginning farmers' success in building viable farm businesses. 
Boxes are delivered weekly and include a wide variety of seasonal organic vegetables and berries, as well as recipes, cooking tips, and instructional videos to help you use products with which you might not be familiar. We will have pick-up locations in Bellingham, throughout Skagit (Anacortes, Burlington, Mt. Vernon, Sedro-Woolley), Lynnwood and throughout Seattle.  Our boxes contains 7-10 different varieties of seasonal vegetables and berries. Two sizes are available. The small box generously feeds 1-2 adults, and the large box is great for 3-4 adults or a family of five.
For the 2023 Season, we are excited to offer our CSA based on a sliding scale pricing model (see details in our Policies & FAQs). In previous years, we have been able to offer our CSA at half price to customers who pay with their Supplemental Nutrition Assistance Program (SNAP) benefits, thanks to generous support from the USDA Food Insecurity Nutrition Incentive Program. This grant funding ended at the close of the 2020 season, but we are still committed to ensuring that our CSA is widely accessible and affordable. We continued to offer the discounted pricing to SNAP customers in 2021 and also piloted a new sliding scale model for all customers, which we continued into 2022. We are excited to be able to continue this pricing model into the 2023 season, thanks to the generous support of our customers and funders.
We invite you to select the pricing option that best fits your financial situation. We appreciate your active participation in this new model, and hope that it allows us to continue expanding the impact of our CSA throughout our community.
We are also offering customers the opportunity to donate the value of additional CSA boxes, which will help us offer our CSA at the reduced rate for those who need it.
Please see our
Policies & FAQs
for details about payment, delivery, vacation holds and more.
Everything that has been coming in the vegetable box has been just incredible. The quality and freshness is unlike anything I've ever had access to and am so glad to have this opportunity to participate in this program.
I thought it was great, and loved that produce came from multiple farms. It was easy to sign up and pick up boxes each week and the variety of produce was superb. Overall I was very happy. I have tried several CSA's and this was by far my favorite. Thank you for all you do!!
"I like the program and plan on continuing to use it. I especially like the emails that list the contents of the box each week with suggested recipes, because I didn't recognize some of the produce, and therefore didn't know what to do with it, so the emails are very helpful."
"The quality is so good! Seriously astonishing how tasty these veggies are. It's a super good value for the quality and amount. Plus, it's really convenient for me to be able to pick up my produce once a week on the way home."
Do You Receive SNAP Benefits?
50% discount on all boxes for SNAP (EBT) recipients! See details.
Are you a social service provider who works with SNAP recipients? Email sales@vivafarms.org to learn more.