There are  no upcoming events at this time. Please check back soon and follow us on soical media for immediate updates! 
SEPTEMBER 16, 2023
PAST EVENT | TOUR 
Tour of Viva Farms Skagit location with Skagit Valley Food Co-Op!
In case you missed it, the Co-op donated $100,000 to Viva Farms earlier this year. We're inviting you out for an opportunity to meet the farmers, walk the farm, and learn more about how Viva is growing farmers, community, and food, for generations to come.
Tours last 1.5-2 hours. Meet in the Viva parking lot (carpooling is encouraged). Bring a friend, water, and snacks (if you need them)! And do dress for the weather.
Saturday, September 16 @ 10am
Viva Farms
15366 Ovenell Road
Burlington, WA 98233
Register online here: https://form.jotform.com/231865614695063
SEPTEMBER 11, 2023
PAST EVENT | WORKSHOP
GROWING YOUR WHOLESALE PROGRAM
FREE + Open to the Public! Spanish interpretation provided.
Ready to scale up your farm? Join agricultural leaders and industry buyers as you plan and execute sales to larger, wholesale buyers.
In partnership with the USDA Agricultural Marketing Service, Viva Farms is excited to host panelists Ed Morris (Sales and Sourcing Manager at Puget Sound Food Hub), Mike Neubeck (Director of Purchasing at Organically Grown Company), Amy Frye (Owner/Operator of Boldly Grown Farm) and Annette Slonim (Farm to School Lead at Washington State Department of Agriculture) to discuss how small and mid-scale farmers can plan for and execute sales to larger wholesale and institutional buyers.
This event is FREE, open to the public, and Spanish interpretation will be provided. Registration is required. Please register here.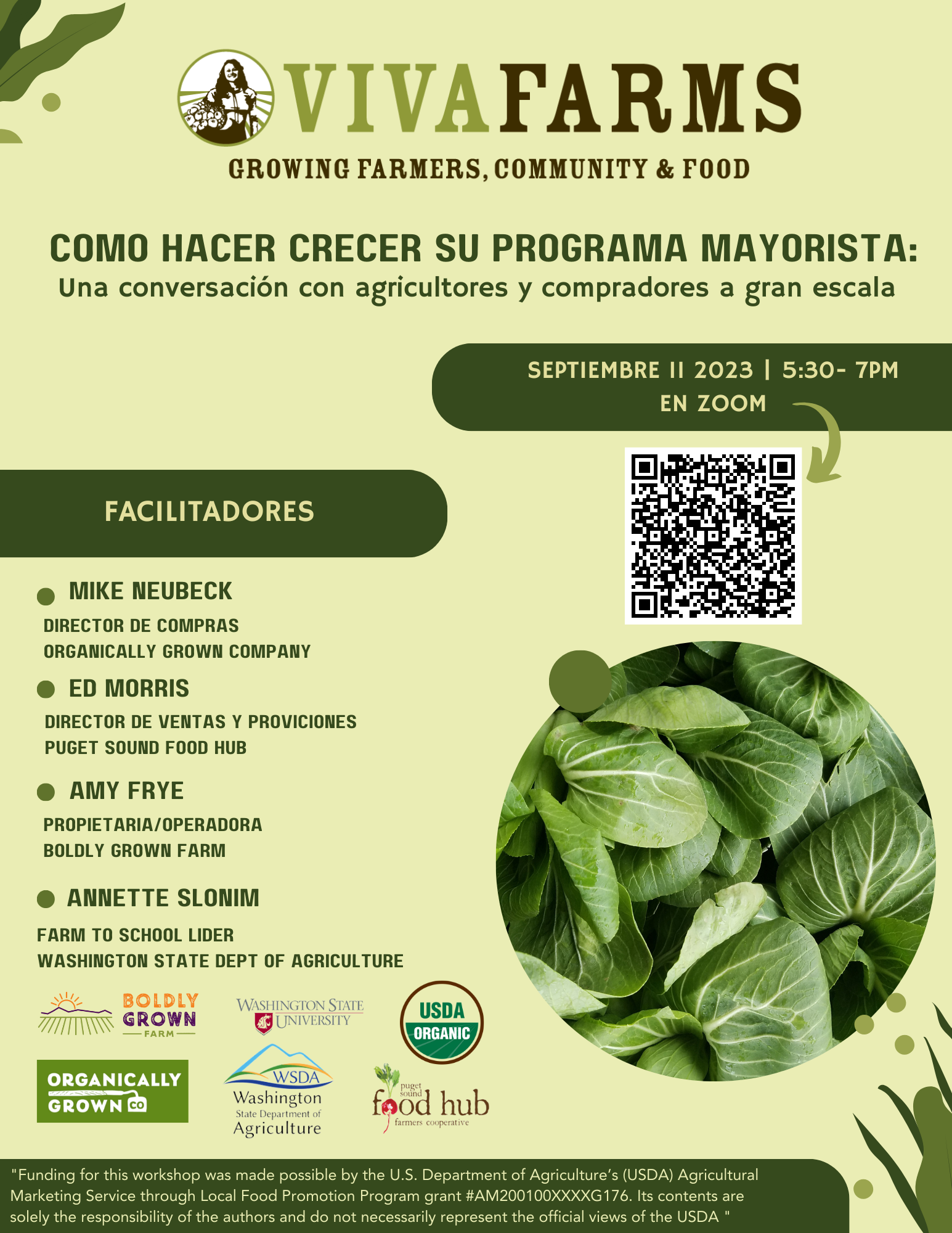 Como Hacer crecer su programa mayorista
GRATIS + abierto al público
¿Está preparado para ampliar su explotación? Únase a líderes agrícolas y compradores del sector para planificar y ejecutar ventas a compradores mayoristas más grandes.
En colaboración con el Servicio de Comercialización Agrícola del USDA, Viva Farms se complace en acoger a los panelistas Ed Morris (Gerente de Ventas y Abastecimiento en Puget Sound Food Hub), Mike Neubeck (Director de Compras en Organically Grown Company), Amy Frye (Propietaria / Operadora de Boldly Grown Farm) y Annette Slonim (Farm to School Lead en el Departamento de Agricultura del Estado de Washington) para discutir cómo los pequeños y medianos agricultores pueden planificar y ejecutar las ventas a compradores mayoristas e institucionales más grandes.
Este evento es GRATUITO, abierto al público y contará con interpretación al español. Es necesario inscribirse aquí. Por favor, dirija sus preguntas a [email protected]. 
JANUARY 2023
PAST EVENT | FUND ANNOUNCEMENT
FEEDING SKAGIT FOREVER
FREE + Open to the Public!
Join us for an inspirational evening of food, farming, and fun in celebration of a powerful new partnership between Skagit Valley Food Co-op and Viva Farms!
To kick of the Co-op's 50th Anniversary year, the Co-op donated $100,000 to Viva Farms through their Growing Good Fund to support local, organic ag and the future of farming in Skagit Valley. Come learn more about the Co-op, Viva Farms, and how together, we can keep our community fed and healthy with local food, today, tomorrow, and well into the future.
You'll hear from local farmers as they share their stories, and from the Co-op's General Manager about why this partnership is so meaningful to the future of food in Skagit County. Stick around for a mixer to meet the farmers and close out the night!
There will be light snacks, $2 beers, and prizes!
Learn more about the event and the Growing Good Fund here.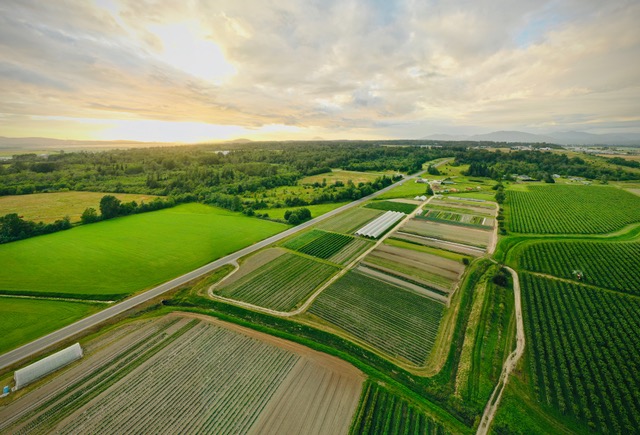 Join Viva Farms and American Farmland Trust for a series of four workshops exploring farmland access strategies and considerations.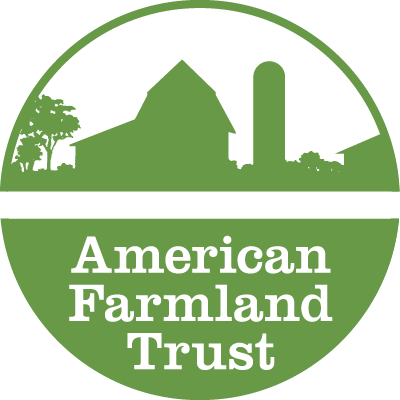 "We created the conservation agriculture movement, which speaks for the land—and for the people who grow our food. As the movement's leaders, we have three priorities: protecting agricultural land, promoting environmentally sound farming practices, and keeping farmers on the land.
AFT is the only national agricultural organization that approaches its work in this comprehensive, holistic manner. We recognize the connection between the land, forward-looking farming practices, and the farmers and ranchers who do the work. We also recognize the power of combining on-the-ground projects with objective research and effective advocacy.
Today, because of AFT, millions of acres of farmland that otherwise would have been converted into house lots and shopping malls remain in farming, and tens of thousands of farmers and ranchers have adopted better farming practices."
SEPTEMBER 2022
PAST EVENT | WORKSHOP
FARMLAND ACCESS WORKSHOP SERIES
(Espanol abajo)
Are you a farmer seeking long-term land tenure? Do you have questions about water rights or assessing a potential new property? Do you want to learn about financing options and creative land tenure models? Join Viva Farms and American Farmland Trust for a series of workshops in September exploring farmland access strategies and considerations. 

We recognize that farmers face incredible barriers to accessing land, and we believe farmers shouldn't face these burdens alone. Through these workshops, we'll convene people and organizations committed to helping farmers find and assess land, finance land, design appropriate lease and purchase models, and more. 
You'll hear from Washington Farmland Trust and Washington Water Trust, along with financial and legal specialists, and other farmers and experts who will share about their programs and experience. Workshops are free and open to the public and will be offered in English with simultaneous Spanish interpretation provided by WSU Skagit County Extension.
Espanol
¿Es usted un agricultor que busca la tenencia de un terreno a largo plazo? ¿Tiene preguntas sobre los derechos de agua o sobre cómo evaluar una nueva propiedad? ¿Quiere aprender sobre opciones de financiamiento y modelos creativos de tenencia de tierra? Únase a Viva Farms y American Farmland Trust para una serie de talleres en septiembre que exploran estrategias y consideraciones del acceso a tierras agrícolas.
Reconocemos que los agricultores enfrentan barreras importantes para acceder a la tierra y que a veces no tienen la ayuda necesaria para enfrentar estos desafíos. A través de estos talleres, convocaremos a personas y organizaciones comprometidas con ayudar a los agricultores a encontrar, evaluar y financiar tierras, a acceder a modelos apropiados de arrendamiento y de compra, y más.
Nos acompañarán las organizaciones Washington Farmland Trust y Washington Water Trust, junto con especialistas financieros y legales, y otros agricultores y expertos para compartir sus programas y experiencias. Los talleres son gratuitos y abiertos al público y se ofrecerán en inglés con interpretación simultánea en español proporcionada por WSU Skagit County Extension.
APRIL 2022
PAST EVENT | FUNDRAISER
SKAGIT FARM TO PINT ROADSHOW 2022
Viva Farms is hosting the 4th Annual Skagit Farm to Pint ROADSHOW, presented by the Port of Skagit this April. The ROADSHOW is a month-long local beer, cider and bounty celebration held at breweries around Skagit Valley featuring craft beers brewed with Skagit Valley Malt, cider and delicious bites highlighting local ingredients.
Join other local beer, cider and food enthusiasts, as you enjoy exclusive beer and bite pairings on a self-guided brewery adventure. Participants can also join in the fun of a homebrewer's competition; cornhole and trivia tournaments. All proceeds benefit Viva Farms.
Join us.
Learn More
…
SEPTEMBER 22, 2021
PAST EVENT| VIRTUAL FUNDRAISER
LOVE THE LAND: A VIRTUAL BENEFIT CONCERT
Local farmers, the stewards of our land, are at the heart of our food system. And yet, the barriers that they face are staggering, especially for marginalized growers. From finding and affording land to keeping it productive and resilient in the face of climate change, local farmers need our support now more than ever. Join us.
Learn More
…
PAST EVENT | MONTH LONG EVENT APRIL 2021
SKAGIT FARM TO PINT FEST ROADSHOW
We know Skagit Farm to Pint FEST is something that we all look forward to every year, but we also know that things look a little bit different this year. For us, community safety and well-being are at the top of our priority list. So, we've decided to change things up.
Here's what we're doing this year. You, the craft beer supporter and participant pick up a swag bag that includes the FEST GUIDE. Bring your FEST GUIDE to each of the 13 Skagit Breweries anytime during the month of April where you will receive a stamp, a Sample Beer made with Skagit Valley Malt and a paired bite which will feature a local ingredient. For some of the breweries, your paired bite will be included in your FEST Swag Bag. 
WHEN: Skagit Farm to Pint FEST Roadshow starts April 1st and runs through April 30th.
WHY: Connect YOU to Skagit Valley Breweries & Bounty while supporting Viva Farms AND our local Skagit Valley breweries!
WHERE: Throughout Skagit Valley.
TICKETS: Include FEST Swag Bag with FEST Guide and 2 commemorative glasses, 13 beer & bite pairings, live stream concert, and a scavenger hunt for the chance to win over $1,000 in prizes including a Kegerator, Yeti cooler, swag, and gift cards!
100% of proceeds go to support Viva Farms and our mission to create a more just and resilient local food system.
THANK YOU TO OUR SPONSORS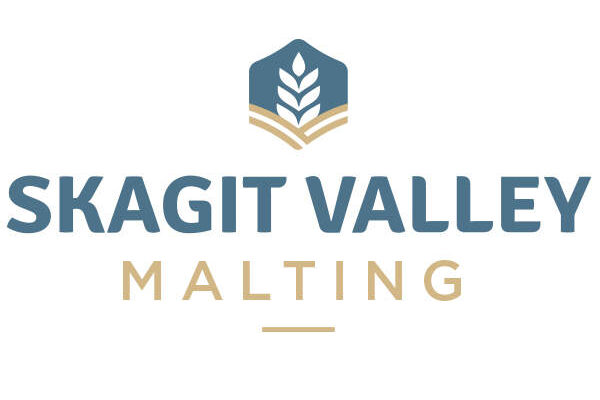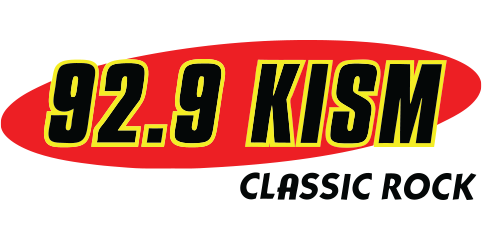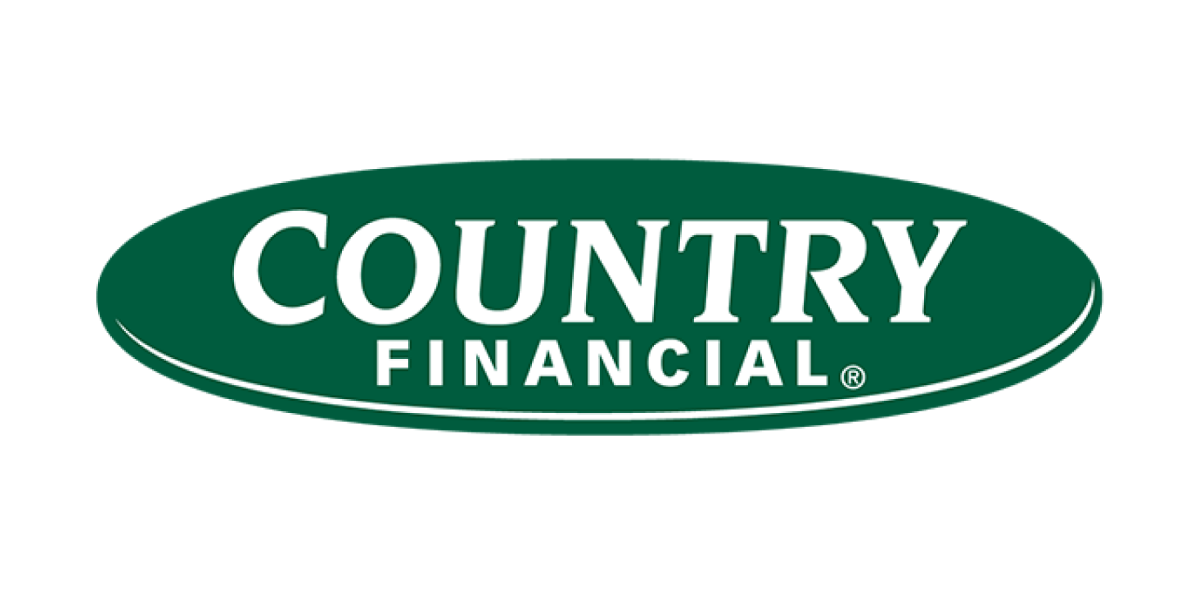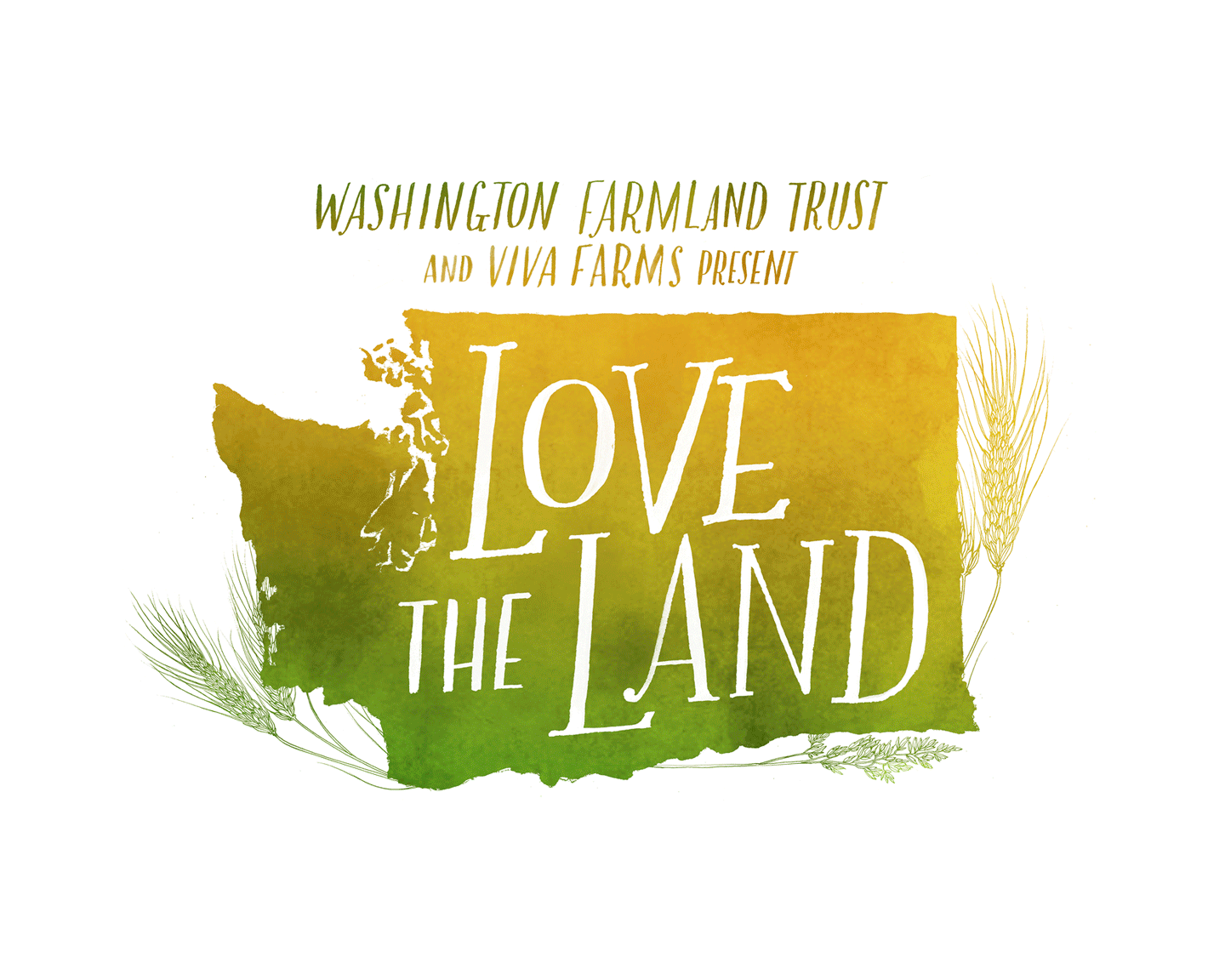 PAST EVENT | VIRTUAL FUNDRAISER 
LOVE THE LAND 2020: A VIRTUAL BENEFIT CONCERT FOR LOCAL FARMS
Now more than ever, we need regional food security. Local farmers are under enormous pressure due to rising land prices, climate change, and a growing pandemic. We know we are stronger together, and that it will take all of us to create lasting solutions for a better future. That's why we Viva Farms is teaming up with Washington Farmland Trust on a virtual benefit concert to support a reslilient food system. Join us for an evening of inspiration, music, and community as we aim to raise $350,000 for local farms.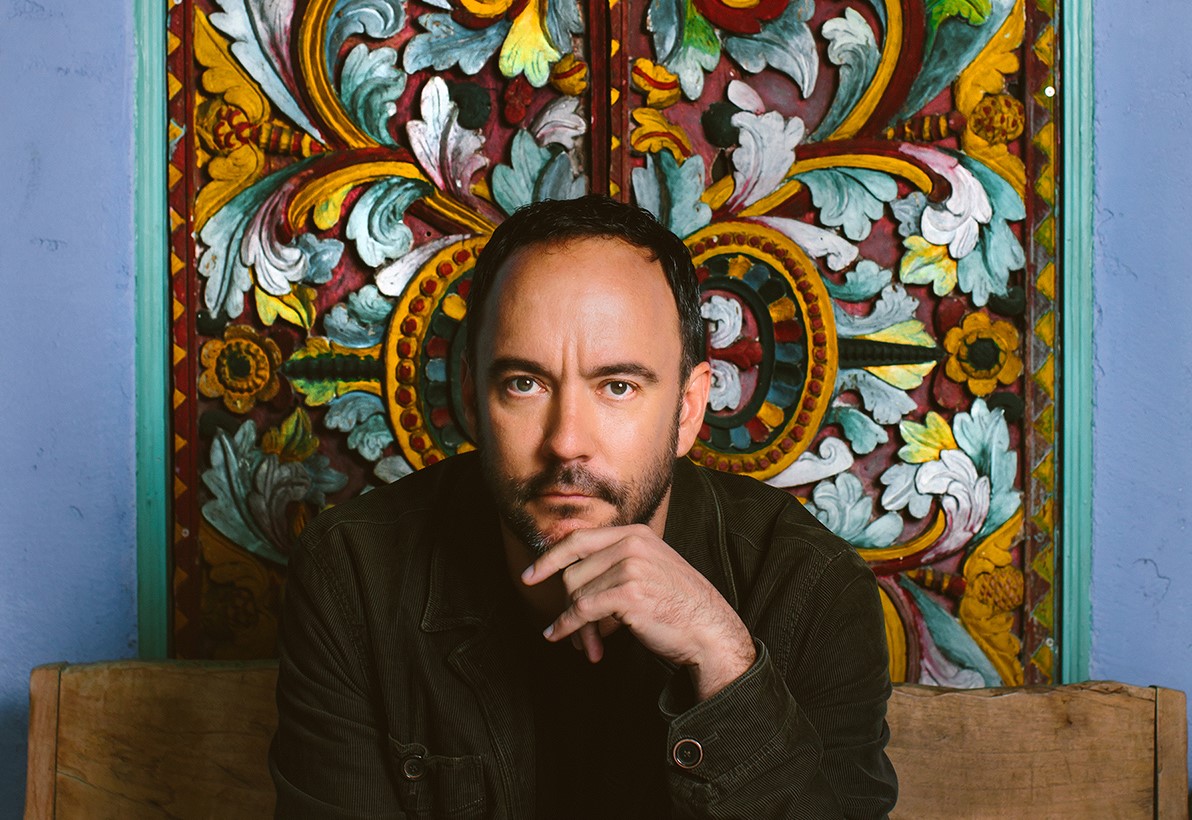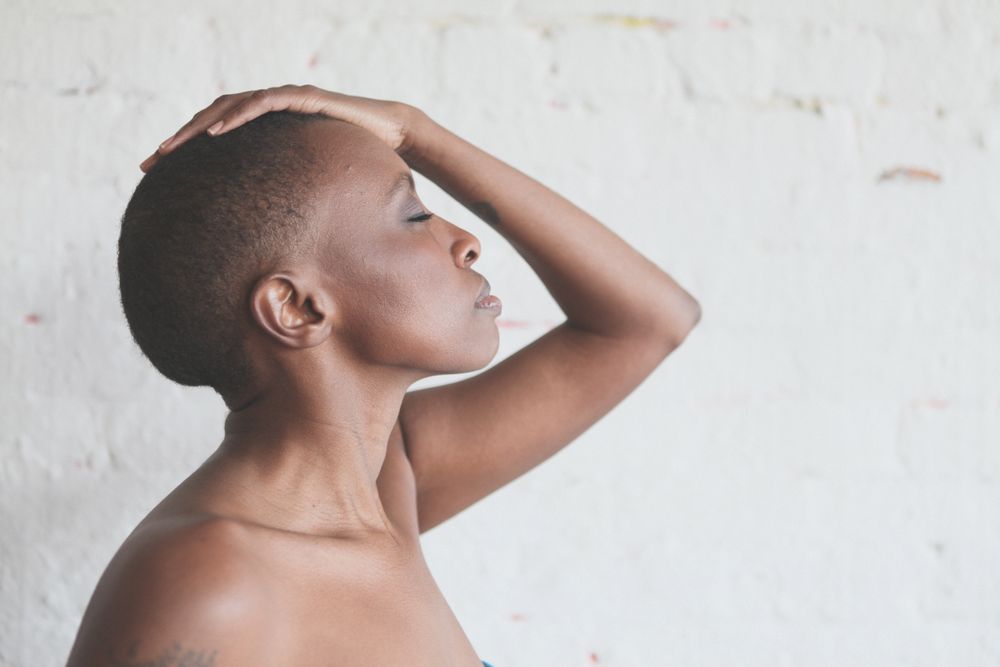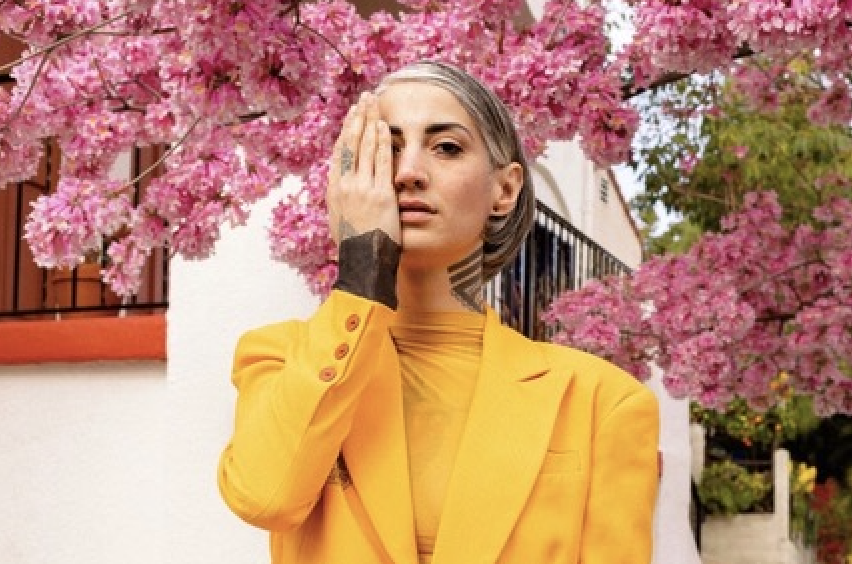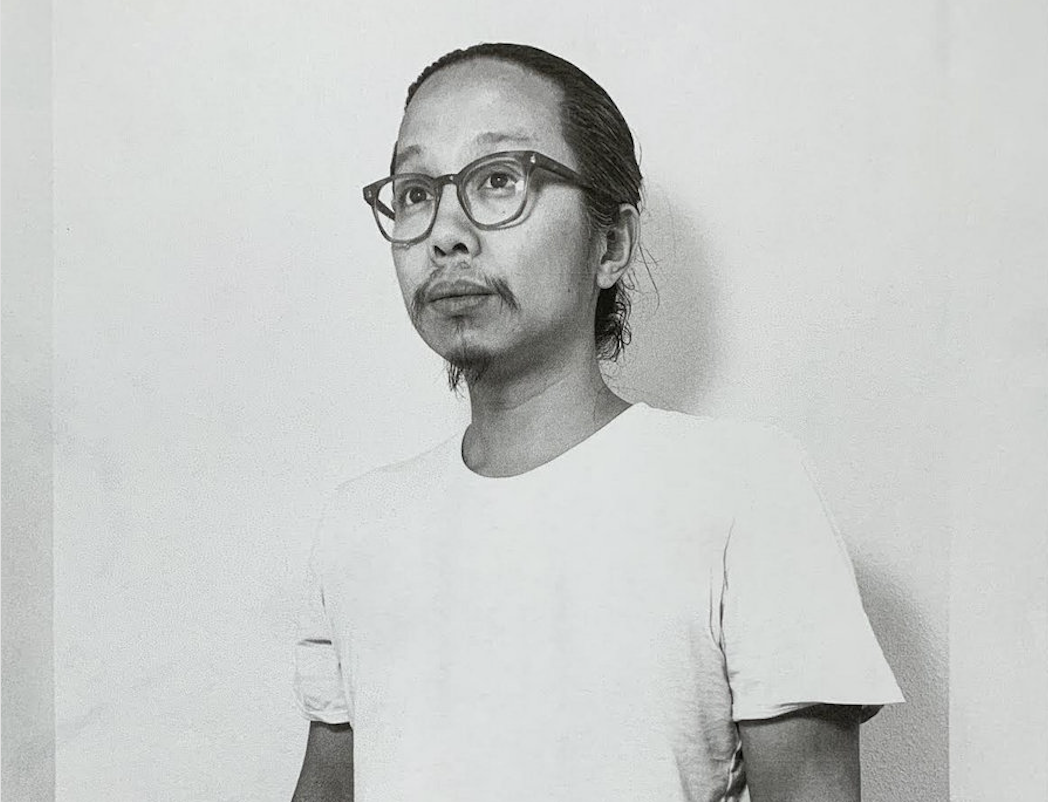 Luz Elena Mendoza of  Y La Bamba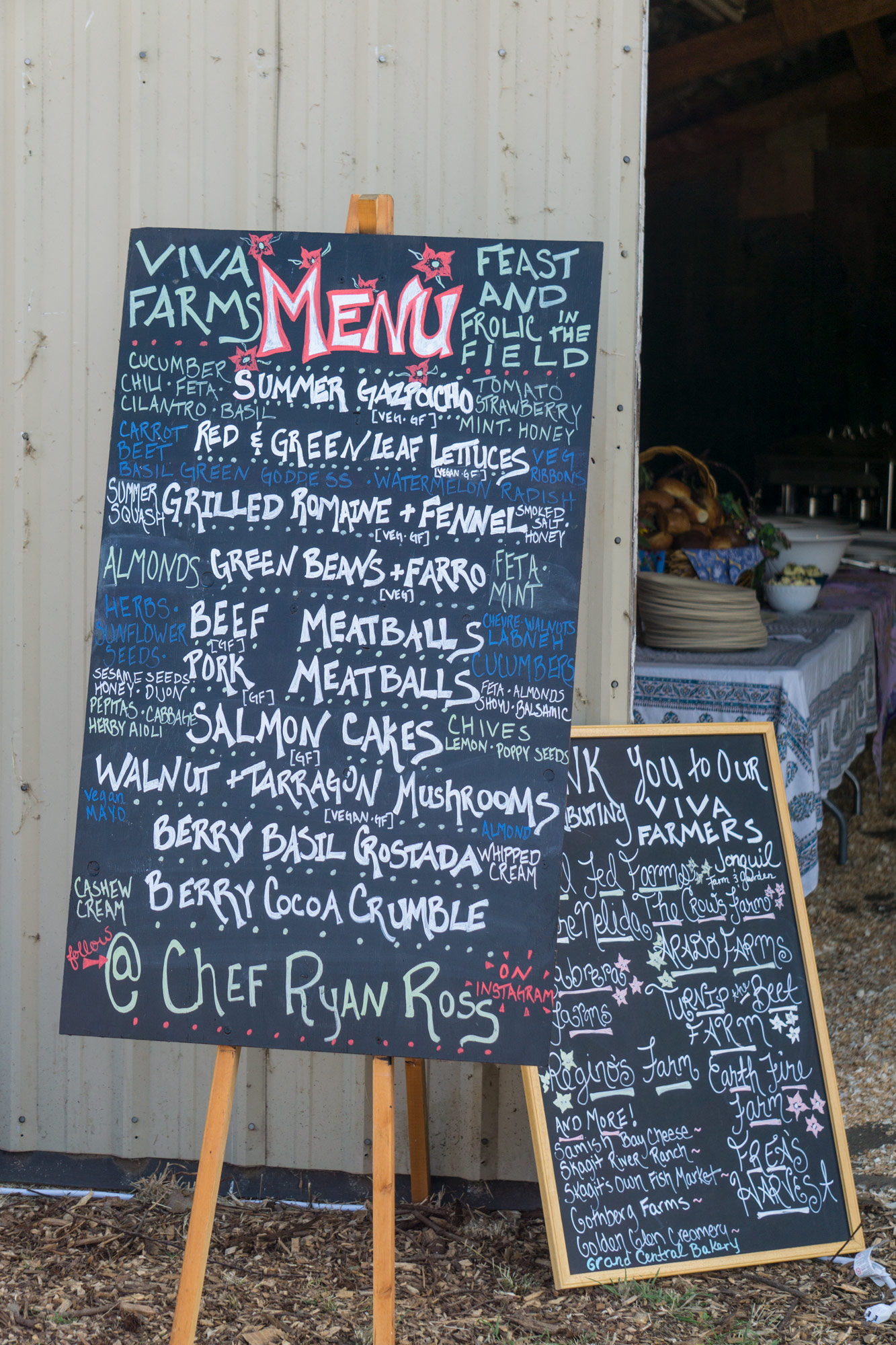 PAST EVENT | SATURDAY JULY 20, 2019
FEAST AND FROLIC IN THE FIELD
Join Viva Farms for an evening to celebrate our farmers and the preservation of sustainable family farming. Together we will share in all the bounty our valley has to offer through food, music, and drinks. Enjoy a farm-to-table dinner prepared by Ecolibrium Farms with ingredients sourced from Viva farmers. Stroll through the fields on a guided tour of our 45-acre farm while you sip on locally crafted drinks from Garden Path Fermentation, Anacortes Brewing, and Tulip Valley Winery and breathe in the fresh air of Skagit Valley. Put on your dancing shoes for a lively show by FarmStrong. 
All proceeds from event sales go to support our mission to preserve sustainable farming culture, create a strong and just food economy and provide aspiring and limited-resource farmers opportunities for success.